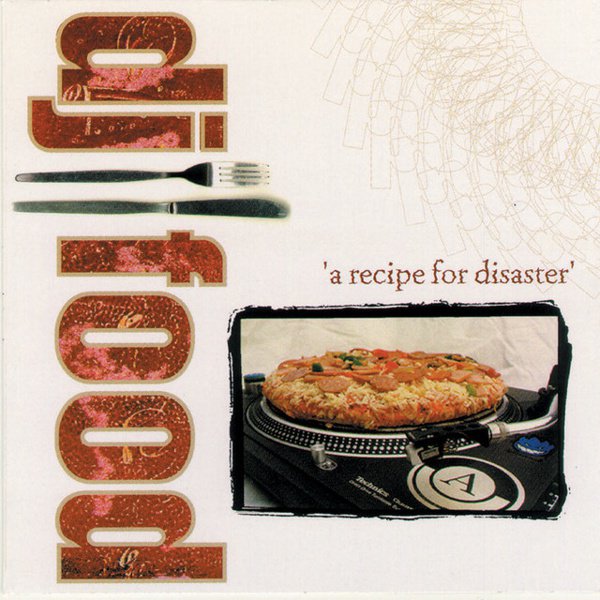 A Recipe for Disaster
The loop-heavy Jazz Brakes albums that planted Ninja Tune's roots in the ground were potent beatmaking and DJ tools, but they felt more like components than finished products. That became especially clear when the collective unit DJ Food — then featuring a core of Coldcut, Patrick "PC" Carpenter, Kevin "Strictly Kev" Foakes, and a handful of others — revealed their more dynamic and intricate tendencies in A Recipe for Disaster. Taken as a whole, it throws a teetering rope bridge between the murkier, more ruminative takes on trip-hop found deep in the Mo'Wax back catalogue and the quirky party-breaks side of big beat that Fatboy Slim would take to its broadest conclusions — and reveals a whole lot of points of interest between. The resulting mood swings can get a bit personality-crisis, as cut-and-scratch expositions that sound like a spitball take on comedic turntablism ("Scratch Yer Hed"/"Scratch Yer Butt") mingle with high-rolling drum'n'bass refinements ("Fungle Junk"), moody / bleak acid jazz ("Dark River"), and borderline-ambient headnod beats ("Bass City Roller"). But it's the kind of disorienting that points you towards an unknown destination you can't wait to reach.
Released in 1995, DJ Food (Kevin Foakes aka Strictly Kev) had already released a series of DJ tool/beats/sound effects records on UK label Ninja Tune and A Recipe For Disaster was his first 'proper' album. Reflecting the contemporaneous growth of cross-genre and eclectic club nights and DJing, Recipe… is an album of day-glo, sample-heavy beat-science cross-pollinations. There's plenty of abstract instrumental hip hop, expert turntablism and sample-aided reconstituted funk, Foakes filling in the gaps where rappers would have rapped with layers of recognisable instrumental samples and all sorts of synth and studio trickery too. He also includes some Latin and drum & bass-influenced tracks and, in an album with a generally party-friendly mood, a couple of quieter introspective moments too. Fun, super-funky and with never a dull moment.