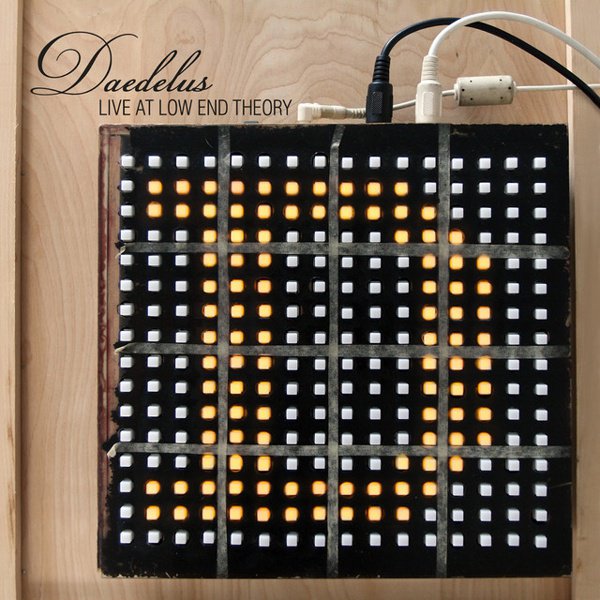 Live at Low End Theory
The collapsing walls between live music and electronic music took a real beating in LA, where an event called Low End Theory helped grow the careers of Daddy Kev and Daedelus and Gaslamp Killer. The mood here is pretty representative of the Low End Theory approach—everything smashed together, energy levels high but not all the way to pure chaos. "Disco, Disco, Disco" is not strictly disco, but a plangent piano phrase put through some tumbling filters and strings and kicks. It feels a lot like someone chopping samples on the fly and letting loops spin until it's time to hit reverse and drop something new. Live computer music DJing at its most hectic and alive.
The same year Flying Lotus unleashed Los Angeles on the world and made everyone East of SoCal start taking notice of the scene that cultivated it, one of his veteran peers put out a frantic, breathtaking live-set mix from the epicenter of it all. Daedelus had been putting out records years before most people had even thought to ask what if J Dilla but also Squarepusher, and by the time the producer was given the enviable task of bringing the Low End Theory's restless energy into record stores they'd built a body of work that seemed to operate in defiance of anything you'd want to call a genre. Live at Low End Theory is technically a dance record, but more as an impetus than a category; its relentless rhythmic weight seems to have the same relationship to what people recognize today as "the L.A. beat scene" as David Mancuso's early '70s Loft psych-into-soul-into-jazz sets had with what would later be called disco. In other words, it's a progenitor that doesn't instantly evoke the big moves, but digs at the roots to find the more idiosyncratic and personal tendencies: an opener ("Put A Spell") that drops Screamin' Jay Hawkins' most famous exhortation over a track that mutates from 808 State's Pacific ambience to emphatically unpredictable post-d'n'b breaks, hammer-blow fusions of piano house and boogie-funk/electro that bang harder than the most shameless big-room techno ("Disco, Disco, Disco"), and a couple manic cuts ("Break Some Hearts"; "Rest in Peace") that run their classic funk and soul sources through a hyperactive breakcore gauntlet worthy of Kid606 and Jason Forrest. Best of all, there's plenty of room for inventive silliness in all that forceful drive: one manic stretch — running from the perky '20s Disney piano jazz goof "Play It Again" through glimmering sprint "Now's the Time," the sunshine pop-laced "Say Yes," and the easy-listening string section subversions of "Arouse Suspicion" — proves you can get away with a lot if you've got the kind of ultra-propulsive beats beneath that leave no inch of the body uncovered by sweat.