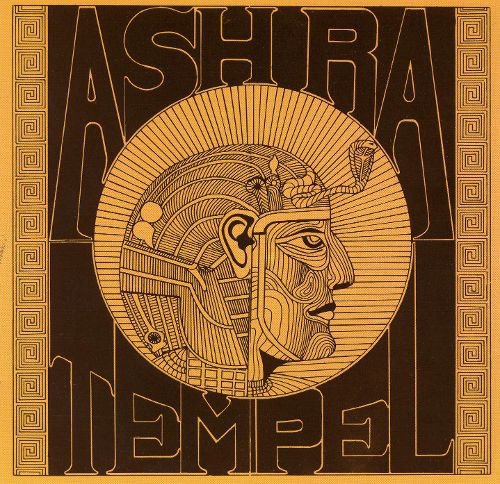 Ash Ra Tempel
Perhaps the most important thing Klaus Schulze did was to show up on a bunch of huge debut albums, make a shitload of noise, and then split. As he did for Tangerine Dream, so he did for Ash Ra Tempel, making their first record a real pillar of that early harsh kosmic kraut varietal, a rare but very important breed. Some people hear the Cocteau Twins in here, due to the deep German reverence for echo, a tradition that deserves celebrating. Actually spacey.
Before he was a synth wizard, Klaus Schulze was a drummer, one who along with Neu!'s Klaus Dinger and Can's Jaki Liebezeit laid the rhythmic foundation for the entire Krautrock movement. Ash Ra Tempel was a power trio featuring guitarist Manuel Göttsching and bassist Hartmut Enke. This self-titled debut consists of two side-long jams. "Amboss," which Earthless fans will find easy to love, is driven by a rigorous but recognizably human beat; Schulze busts out rapid-fire fills that ratchet the energy level up nicely as Göttsching heads for the stratosphere. "Traummaschine" is slower and much trippier, an audible influence on acts ranging from SubArachnoid Space to Fushitsusha.
The first of what would be many albums under the general Ash Ra Tempel rubric, the self-titled 1971 debut finds the original trio staking out its claim for truly boundary pushing forms of rock music as such over two side-long pieces. "Amboss" provides the frenetic element, building into chaotic, triumphal waves of feedback and jamming, while "Traummaschine" is the starting point for the more serene waves that later versions of the band would explore further, Manuel Göttsching's guitar a contemplative, mesmerizing force.