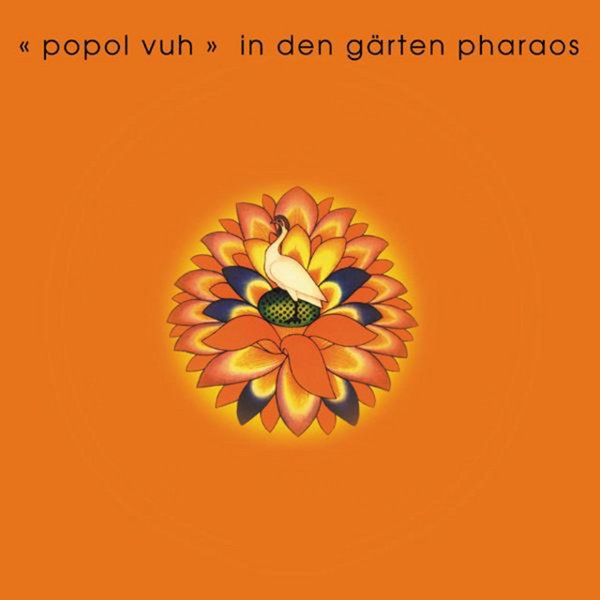 In den Gärten Pharaos
Florian Fricke is the man behind the curtain here, as Froese and Göttsching are in other groups. Here, Fricke lulls us into thinking everything is going to be OK with his Moog bubbling, ably aided by Holger Trulzsch's hand percussion. Side one is a magical thing, as healing and positive as music gets. The second side, "Vuh," is one massive chord played on a church organ that breaks through the earth on the constant white noise ribbon cymbals. The album is essentially one long build that seems sort of unplanned and benign at first and then feels like a deep tissue injection of something warm and equally benign, but 500 times as strong.
It feels insulting to describe an album as mammoth as In Den Gärten Pharaos as 'transitional', but in many ways that's what it is. On two side-long pieces, Fricke shows that he's mastered the intricacies of his Moog, before blowing everything apart. The first side is taken up with the title track, a lovely piece for electronics, Fender Rhodes, water and percussion that ties together the loose threads of Affenstunde and proves that Fricke's hard yards at the patchbays had paid off; there's an elegance here that's missing from the debut, a liquid motion to the compositions, that makes it a consummate take on Kosmische Musik. Flip the album, and "Vuh" is genuinely startling, a magisterial, planet-guzzling church organ drone that's as epic as it is mournful and ponderous; crashing crescendos of cymbal punctuate the piece, alternating with tumbling percussion, while distant vocal chants suggest figures lost in a wrecked, frozen landscape. Popol Vuh's music would never be quite this dramatic again, but "Vuh" feels like a clearing of the decks, while pointing Fricke's music towards the elemental, the religious, and the acoustic.
– Jon Dale