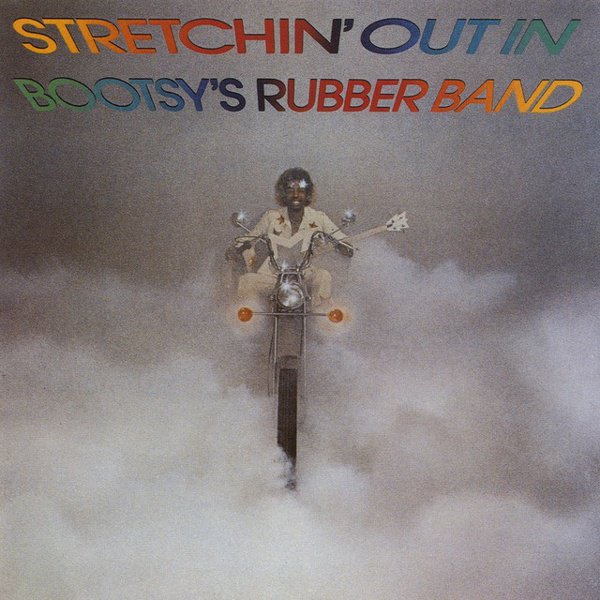 Stretchin' Out in Bootsy's Rubber Band
Bassist Bootsy Collins joined James Brown's band in 1970 just in time to play on his classic 'Sex Machine' track and album. Leaving to join George Clinton's Parliament/Funkadelic collective, Bootsy launched himself as a solo artist with this 1976 album. Featuring fellow JB alumni Fred Wesley and Maceo Parker, you get complex, playful, dense, semi-psychedelic soul ballads and party-friendly funk music, laced with all sorts of space-age synth wriggles courtesy of Bernie Worrell and of course liberal helpings of Bootsy Collin's phat bass. 
After making his name in James Brown's incredible 1969-70 band, then joining Parliament and Funkadelic, bassist Bootsy Collins went solo, sort of, on this 1976 LP. It was co-produced with George Clinton, recorded during the same batch of sessions that yielded Parliament's Mothership Connection and Funkadelic's Let's Take It To The Stage, and featured members of both groups, including his brother Phelps Collins and Garry Shider on guitars; keyboardist Bernie Worrell; drummers Gary "Mudbone" Cooper, Cordell "Boogie" Mosson, and Frank Waddy; and Fred Wesley and Maceo Parker on trombone and sax (joined by the Brecker brothers, trumpeter Randy and saxophonist Michael). The grooves are ridiculously tight and locked-in, with psychedelic guitar and synths swirling around as the horns punch in right on time; Collins' goofy personality and imperturbable optimism is the heart of his vocal performances, so even when the lyrics are nonsense (he spends about half the album talking about being Casper the Friendly Ghost) they're at worst ignorable and often weirdly hilarious.